Cosmic Origins Program Analysis Group (COPAG)
Executive Committee
The COPAG Executive Committee is a community-based leadership council that is responsible for providing NASA with needed analysis, as well as coordination and communication with the Cosmic Origins community.
There is a continuing call for nominations to the Cosmic Origins Program Analysis Group (COPAG) Executive Committee. Apply to the Cosmic Origins Program Analysis Group Executive Committee here.
Executive Committee Members
Term
Institution
Shouleh Nikzad
(Chair)
April 2022–October 2024
Jet Propulsion Laboratory
Stephan McCandliss
November 2018–October 2024
Johns Hopkins University
Christine Chen
November 2020–January 2024
Space Telescope Science Institute
Chris Hayward
November 2020–January 2024
Flatiron Institute
Sabrina Stierwalt
November 2020–January 2024
Occidental College
Hsiao-Wen Chen
April 2022–October 2024
Univeristy of Chicago
Enrique Lopez Rodriguez
April 2022–October 2024
Stanford University
Rachael Beaton
January 2023–October 2025
Space Telescope Science Institute
Sanchayeeta Borthakur
January 2023–October 2025
Arizona State University
| | |
| --- | --- |
| Manuel Bautista (Executive Secretary, Ex-Officio) | NASA HQ |
| Peter Kurczynski (COR Program Office, Ex-Officio) | NASA/GSFC |
NASA's First Asteroid Sample
Has Landed,
Now Secure in Clean Room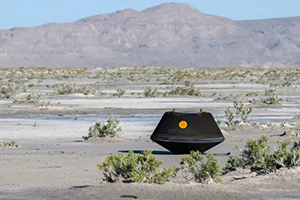 Congratulations OSIRIS-REx! After years of anticipation and hard work by NASA's OSIRIS-REx team, a capsule of rocks and dust collected from asteroid Bennu finally is on Earth. It landed at 8:52 a.m. MDT (10:52 a.m. EDT) on Sunday. Read more.
---
COR News and Events
See our new Events Calendar
Current and Upcoming Events
Program News and Announcements
Project News
---
Links