COPAG Meetings
Community Meeting of the Cosmic Origins Program Analysis Group (COPAG)
Location: At the 218th AAS Meeting, Venetian Room at the Fairmont Copley
Place, Boston, MA
Date: Tuesday, May 24, 2011

This session is a community meeting of the NASA Cosmic Origins Program Analysis Group (COPAG). The COPAG is responsible for soliciting and coordinating community input into the development and execution of NASA's Cosmic Origins Program (COP). The COPAG serves as a community-based, interdisciplinary forum for analysis in support of Cosmic Origins objectives and of their implications for architecture planning, activity prioritization and for future exploration. It provides findings and analyses to NASA through the NASA Advisory Council (NAC) within which the COPAG Chair is a member of the Astrophysics Subcommittee. We will present a description of the on-going COPAG activities and tasks. We will outline how the COPAG plans to operate in the near future. All interested AAS meeting attendees are encouraged to come and participate and provide their thoughts and suggestions.
COPAG AAS Presentation by Christopher Martin (May 24, 2011)
Download: PDF or PowerPoint
NASA's First Asteroid Sample
Has Landed,
Now Secure in Clean Room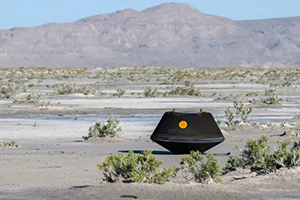 Congratulations OSIRIS-REx! After years of anticipation and hard work by NASA's OSIRIS-REx team, a capsule of rocks and dust collected from asteroid Bennu finally is on Earth. It landed at 8:52 a.m. MDT (10:52 a.m. EDT) on Sunday. Read more.
---
COR News and Events
See our new Events Calendar
Current and Upcoming Events
Program News and Announcements
Project News
---
Links