Cosmic Origins News
1 September 2023
NASA Space Technology Graduate Research Opportunities (NSTGRO24) Released | Proposals Due: November 1, 2023 (6 PM Eastern, 3 PM Pacific)
The National Aeronautics and Space Administration (NASA) Headquarters has released a solicitation, titled NASA Space Technology Graduate Research Opportunities (NSTGRO) – Fall 2024, on August 23, 2023. The solicitation is available at https://tinyurl.com/NSTGRO24, NASA Research Announcement (NRA): Space Technology – Research, Development, Demonstration, and Infusion-2023 (SpaceTech–REDDI–2023), 80HQTR23NOA01
The awards are a component of the Space Technology Research Grants (STRG) Program. STRG seeks to engage the entire spectrum of academic researchers, including graduate students, through five competitive solicitations: NASA Space Technology Graduate Research Opportunities, Early Career Faculty, Early Stage Innovations, Lunar Surface Technology Research Opportunities, and Space Technology Research Institutes; all STRG solicitations are released as appendices to the Space Tech-REDDI NRA.
This fellowship opportunity, titled NASA Space Technology Graduate Research Opportunities – Fall 2024 (NSTGRO24), solicits proposals on behalf of individuals pursuing or planning to pursue master's or doctoral (PhD) degrees in relevant space technology disciplines at accredited U.S. universities. Goal/Intent: NSTGRO is a fellowship opportunity focused on graduate student research and development of advanced and innovative space technologies critical for our Nation to meet its goals to explore and understand the Earth, our solar system, and the universe. The NSTGRO24 solicitation requests that students map their proposed space technology development project to the Space Technology Mission Directorate's Strategic Framework. Proposals Due: November 1, 2023 (6 PM Eastern, 3 PM Pacific).
NASA's First Asteroid Sample
Has Landed,
Now Secure in Clean Room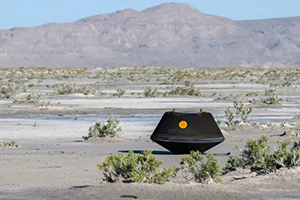 Congratulations OSIRIS-REx! After years of anticipation and hard work by NASA's OSIRIS-REx team, a capsule of rocks and dust collected from asteroid Bennu finally is on Earth. It landed at 8:52 a.m. MDT (10:52 a.m. EDT) on Sunday. Read more.
---
COR News and Events
See our new Events Calendar
Current and Upcoming Events
Program News and Announcements
Project News
---
Links