Cosmic Origins News
15 September 2022
JWST Conference @ Sexten on 10–14 July 2023
FIRST ANNOUNCEMENT
This is the first announcement of the conference "The James Webb Space Telescope turns one: the birth and growth of galaxies", to be held at the Sexten Center for Astrophysics Riccardo Giacconi in Sesto (BZ, Italy), on 10–14 July 2023.
One year after the release of the first data of the James Webb Space Telescope, we will gather in the Italian Dolomites to discuss the transformative science enabled by Webb's observations in the field of galaxy formation and evolution, from its earliest stages to more mature phases in cosmic history. Specific topics will include:
From first stars to current star formation
Dust and circum-galactic medium in distant galaxies
Reionization history
Galaxy mass growth and early morphological evolution
AGN activity at high redshift
Scientific Organising Committee:
A. Adamo (Univ. Stockholm), M. Castellano (INAF Rome), M. Dickinson (NOAO), H. Ferguson (STScI), N. Foerster Schreiber (MPE Garching), A. Fontana (INAF Rome), L. Pentericci (INAF Rome), P. Rosati (Univ. Ferrara), P. Santini (INAF Rome), A. Shapley (UCLA), M. Tosi (INAF Bologna), T. Treu (UCLA), E. Vanzella (INAF Bologna)
Conference webpage: https://www.sexten-cfa.eu/event/jwebb23/
Timeline:
Registration and abstract submission will open on November 30th when the list of invited speakers will be announced (Second Announcement). The selection of contributed talks will be announced by the end of January 2023.
Venue:
Haus Sexten Conference Center, Sexten Center for Astrophysics Riccardo Giacconi (Sesto, BZ, Italy).
We look forward to meeting you in the Sexten Dolomites next summer.
NASA's First Asteroid Sample
Has Landed,
Now Secure in Clean Room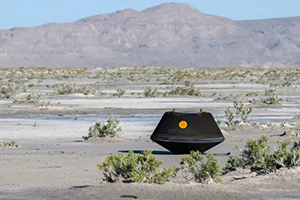 Congratulations OSIRIS-REx! After years of anticipation and hard work by NASA's OSIRIS-REx team, a capsule of rocks and dust collected from asteroid Bennu finally is on Earth. It landed at 8:52 a.m. MDT (10:52 a.m. EDT) on Sunday. Read more.
---
COR News and Events
See our new Events Calendar
Current and Upcoming Events
Program News and Announcements
Project News
---
Links