Cosmic Origins News
28 October 2022
Cosmic Origins Program Analysis Group Executive Committee Nominations
The Astrophysics Division of NASA's Science Mission Directorate is pleased to announce a call for nominations, including self-nominations, to serve on the Executive Committee (EC) of NASA's Cosmic Origins Program Analysis Group, or COPAG (http://cor.gsfc.nasa.gov/copag/). The call for nominations will remain open and accept rolling nominations, as NASA anticipates making several (as many as ten) new appointments to the COPAG Executive Committee. The length of an appointment is nominally up to a period of three years.
Apply to the Cosmic Origins Program Analysis Group Executive Committee
Read more about this position here: Call for Nominations to COPAG EC
NASA's First Asteroid Sample
Has Landed,
Now Secure in Clean Room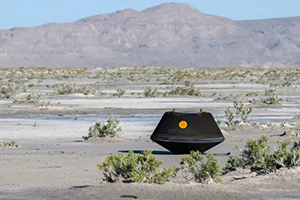 Congratulations OSIRIS-REx! After years of anticipation and hard work by NASA's OSIRIS-REx team, a capsule of rocks and dust collected from asteroid Bennu finally is on Earth. It landed at 8:52 a.m. MDT (10:52 a.m. EDT) on Sunday. Read more.
---
COR News and Events
See our new Events Calendar
Current and Upcoming Events
Program News and Announcements
Project News
---
Links