Cosmic Origins Projects
Missions in Development, Concept, or Study
James Webb Space Telescope
The James Webb Space Telescope (JWST) is a large, infrared-optimized space telescope, designed to be the premier observatory of the next decade, serving thousands of astronomers worldwide. Webb will find the first galaxies that formed in the early Universe, connecting the Big Bang to our own Milky Way Galaxy. It will peer through dusty clouds to see stars forming planetary systems, connecting star formation in our own galaxy with the Solar System. Webb's instruments will be designed to work primarily in the infrared range of the electromagnetic spectrum, with some capability in the visible range. While JWST is its own program (and hence not formally within Cosmic Origins), its primary scientific drivers are aligned with Cosmic Origins questions.
WFIRST/AFTA Study
WFIRST was the top space-based recommendation in the 2010 "New Worlds, New Horizons in Astronomy & Astrophysics." The AFTA Study examines cost-effective ways to achieve the strongly endorsed WFIRST science goals. Although the AFTA Study is part of the Exoplanet Exploration Program, AFTA will yield significant contributions to COR science. The COR Program is supporting detector development work for the AFTA Study.
UV/Optical Telescope Study
Recommended by the 2010 "New Worlds, New Horizons in Astronomy and Astrophysics" report, a UV/Optical telescope as a successot to HST is being studied. The instrumentation being considered includes high-efficiency UV and optical cameras / spectrographs operating at shorter wavelengths than HST, with the possibility of internal coronagraphs or external star-shades. NASA's Cosmic Origins Program is investing in essential technologies such as detectors, coatings, and optics, to prepare for a mission to be considered by the 2020 decadal survey.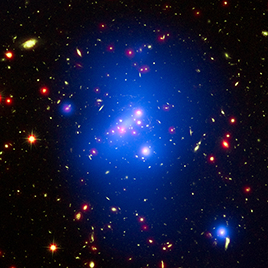 ---
COR News
Program News and Announcements
20 Mar 2017
Astrophysics Probe mission studies selected (3/20/2017) » [
PDF
]
17 Mar 2017
COR Newsletter for March 2017 now available » [
PDF
]
23 Feb 2017
Self nominations sought for APAC (replaces Astrophysics Subcommittee), due 8 March 2017. »
Details
Project News
---
Links