New Great Observatories Science Analysis Group
(Cross-PAG)
The goals of the New Great Observatories Science Analysis Group (see here for full terms of reference) are to analyze and answer the following questions:
To what degree can the Key Science Questions from Astro2020 be advanced by contemporaneous flight of current, imminent, and future IR/O/UV, X-ray, and FIR Great Observatories? In particular, what discoveries in the Astro2020 Priority Areas might be uniquely made possible by coordinated use of X-ray through FIR space observatories using powerful and varied instruments? What gaps require contemporaneous flight of several or even all of these observatories, and to what degree is asynchronous panchromatic coverage sufficient? How might gaps be closed by the notional future multi-scale multiwavelength mission portfolio, including future explorers and probes?


In the scenario that any or all of these missions not be launched, or should their missions see minimal overlap, what are the corresponding scientific impacts with regards to loss of discovery space or inability of the community to address the priority areas of Astro2020?
Questions? Contact the PhysPAG, COPAG, and ExoPAG Chairs (Grant Tremblay: grant.tremblay@cfa.harvard.edu; Janice Lee: janice.lee@noirlab.edu; Ilaria Pascucci: pascucci@arizona.edu, respectively).
For more information and to express interest in participating, see https://www.greatobservatories.org/sag
NASA's First Asteroid Sample
Has Landed,
Now Secure in Clean Room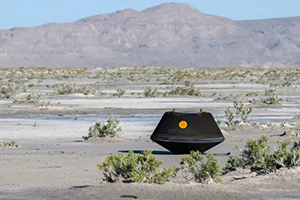 Congratulations OSIRIS-REx! After years of anticipation and hard work by NASA's OSIRIS-REx team, a capsule of rocks and dust collected from asteroid Bennu finally is on Earth. It landed at 8:52 a.m. MDT (10:52 a.m. EDT) on Sunday. Read more.
---
COR News and Events
See our new Events Calendar
Current and Upcoming Events
Program News and Announcements
Project News
---
Links