Cosmic Origins Program Analysis Group (COPAG)
Science Interest Groups (SIGs) and Science Analysis Groups (SAGs)
A Science Interest Group (SIG) is interested in a specific subfield of Cosmic Origins science. SIGs meet to discuss and share scientific results, analysis techniques, and science gaps, as well as how state-of-the-art instrumentation might be advanced in that subfield. SIGs identify data and technology needs that could enable advances in further scientific discovery. To join a SIG group, please email leadership by visiting the pages below.
Currently, the COPAG has four Science Interest Groups and two Science & Technology Interest Groups:
Previous Science Interest Groups and Technology Interest Groups:
The COPAG uses Science Analysis Groups (SAGs) for topical consideration of COR-relevant science and technology issues. Membership of the SAGs is freely open to any interested parties. Each SAG and SIG coordinates with the EC through a member selected from the Executive Committee.
SAG #1: Science objectives for a 4m–8m UV/Optical mission, coordinated by Ken Sembach. (Closed)


SAG #2: Technologies for a 4m-class monolithic telescope UV/Optical mission w/internal coronograph, coordinated by Chuck Lillie. (Closed)
SAG #3: Technologies for an 8m-class segmented telescope UV/Optical mission w/external occulter, coordinated by Jon Gardner. (Closed)


SAG #4: Technologies for a future far-IR mission, coordinated by Paul Goldsmith and Dave Leisawitz (Approved as Science Interest Group Nov 2013). (Closed)
SAG #5: Science objectives & technology requirements for a series of Cosmic Origins Probes, coordinated by Chris Martin. (Closed)


SAG #6: Cosmic Origins Science Enabled by the WFIRST-AFTA Coronograph, coordinated by Dennis Ebbetts (Closed)
SAG #7: Science Enabled by Operations Overlap of HST and JWST, coordinated by James Green. (Closed)
SAG #8: Science Enabled by the WFIRST – AFTA Data Archive, coordinated by Sally Heap (Approved November 2013). (Closed)
SAG #9: Science Enabled by Spitzer Observations Prior to JWST Launch, COPAG EC liason: Daniella Calzetti (SAG approved August 2014). (Closed)
SAG #10: Great Observatories, COPAG EC liasons: Lee Armus and Thomas Megeath. Coordinated by Lee Armus and Thomas Megeath (Approved April 2018).


SAG #11: Cosmic Dawn, Co-Leads: Claudia Scarlata (Minnesota) and Steven Finkelstein (UT Austin). (Approved November 2019)


Multimessenger Astrophysics Science Analysis Group (MMA SAG) analyzing the benefits of multimessenger observations made possible by NASA observatories in the 2020 decade and beyond launched! Join the kickoff telecon Friday, 8 June, and sign up today!
NASA's First Asteroid Sample
Has Landed,
Now Secure in Clean Room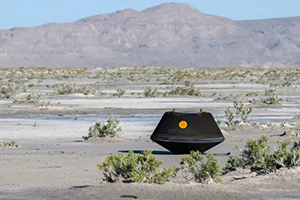 Congratulations OSIRIS-REx! After years of anticipation and hard work by NASA's OSIRIS-REx team, a capsule of rocks and dust collected from asteroid Bennu finally is on Earth. It landed at 8:52 a.m. MDT (10:52 a.m. EDT) on Sunday. Read more.
---
COR News and Events
See our new Events Calendar
Current and Upcoming Events
Program News and Announcements
Project News
---
Links