Active Galactic Nuclei Science Interest Group
The Active Galactic Nuclei Science Interest Group (AGN SIG) offers an opportunity for researchers studying AGN and their students to come together in a series of inspiring and focused talks given by leaders in the field, followed by informal discussions that can potentially lead to future collaborations. The talks will take place on Tuesdays at 12:00pm ET and be 40 minutes, with 20 minutes for informal discussion and questions.
Click here if you would like to join the email Listserv for this Seminar Series.
We also plan to have informal lunch meetings once a month for those interested. They will take place on first Thursday of the month at 12:00pm ET starting Sept 1. For Faculty/Research Staff, You can join here: Faculty/Staff lunch meetings. For Postdocs/Grad Students, you can join here: Postdoc/grad student lunch meetings.
NASA's First Asteroid Sample
Has Landed,
Now Secure in Clean Room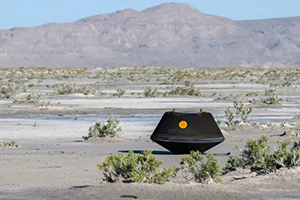 Congratulations OSIRIS-REx! After years of anticipation and hard work by NASA's OSIRIS-REx team, a capsule of rocks and dust collected from asteroid Bennu finally is on Earth. It landed at 8:52 a.m. MDT (10:52 a.m. EDT) on Sunday. Read more.
---
COR News and Events
See our new Events Calendar
Current and Upcoming Events
Program News and Announcements
Project News
---
Links