Diffuse Gas in Cosmic Ecosystems Science Interest Group
The Link Between Halo Gas and Dwarf Galaxy Evolution
---
September 28, 2023 – 4pm Eastern Time / 1 PM Pacific Time
Mary Putman (Columbia University)
There is a distinct lack of gas-rich/star forming dwarf galaxies within the halos of spiral galaxies. This indicates spiral galaxy halos play an important role in quenching the dwarf satellites. Diffuse gas in the halo is commonly thought to play a role via ram pressure stripping. I will discuss the evidence for dwarf satellite quenching by the circumgalactic medium based on dwarf galaxy observations in the local universe.
---
NASA's First Asteroid Sample
Has Landed,
Now Secure in Clean Room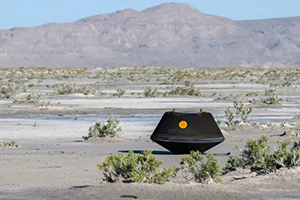 Congratulations OSIRIS-REx! After years of anticipation and hard work by NASA's OSIRIS-REx team, a capsule of rocks and dust collected from asteroid Bennu finally is on Earth. It landed at 8:52 a.m. MDT (10:52 a.m. EDT) on Sunday. Read more.
---
COR News and Events
See our new Events Calendar
Current and Upcoming Events
Program News and Announcements
Project News
---
Links