Cosmic Origins News
15 September 2023
Congratulations to the XRISM Team
On behalf of the Cosmic Origins program office and NASA Astrophysics congratulations to the XRISM teams at NASA and JAXA.
The X-Ray Imaging and Spectroscopy Mission (XRISM), which was formerly known as XARM, is a JAXA/NASA collaborative mission, with ESA participation. The objective of the mission is to investigate celestial X-ray objects in the Universe with high-throughput imaging and high-resolution spectroscopy. XRISM was successfully launched from the Tanegashima Space Center at 8:42 am on September 7, 2023 JST in Japan (23:42 on September 6, 2023 UT).
More information on the XRISM mission can be found here: https://heasarc.gsfc.nasa.gov/docs/xrism/
NASA's First Asteroid Sample
Has Landed,
Now Secure in Clean Room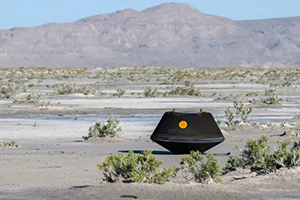 Congratulations OSIRIS-REx! After years of anticipation and hard work by NASA's OSIRIS-REx team, a capsule of rocks and dust collected from asteroid Bennu finally is on Earth. It landed at 8:52 a.m. MDT (10:52 a.m. EDT) on Sunday. Read more.
---
COR News and Events
See our new Events Calendar
Current and Upcoming Events
Program News and Announcements
Project News
---
Links