Astrophysics With Equity: Surmounting Obstacles to Membership (AWESOM) SAG (Cross-PAG)
The AWESOM SAG will undertake a careful study of how to expand the range of institutions and backgrounds for members of the community contributing to NASA astrophysics. The SAG will focus specifically on engagement with research and training programs. The goal of this SAG is to analyze how existing NASA programs and potential new initiatives can increase engagement with research and training programs, and to make available opportunities clearer, more consistent, and easier to access.
Questions: Contact Ryan Hickox (ryan.c.hickox@dartmouth.edu). To express interest in joining this SAG or just to stay informed about it, please fill out this Google Form.
AWESOM Events
Current
---
Previous
NASA's First Asteroid Sample
Has Landed,
Now Secure in Clean Room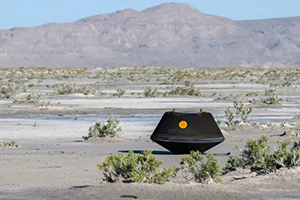 Congratulations OSIRIS-REx! After years of anticipation and hard work by NASA's OSIRIS-REx team, a capsule of rocks and dust collected from asteroid Bennu finally is on Earth. It landed at 8:52 a.m. MDT (10:52 a.m. EDT) on Sunday. Read more.
---
COR News and Events
See our new Events Calendar
Current and Upcoming Events
Program News and Announcements
Project News
---
Links