Cosmic Origins News
1 September 2023
GALAXIES Science Interest Group | Tuesday, 5 September 2023, 1:00pm – 2:00pm Eastern
Title: Habitable Worlds Observatory Overview
Speaker: Jason Tumlinson
NASA's Cosmic Origins Program has established a Science Interest Group (SIG) specifically for galaxies science. Our goals are to map out the galaxies' science priorities for the Habitable Worlds Observatory (HWO, the 6m UV-Optical-IR space telescope that is the top recommendation from the Astro2020 Decadal Survey report), and other Future FIR and X-ray Great Observatories. On behalf of the NASA Galaxies Science Interest Group (Galaxies SIG), we would like to invite you to join our Fall Seminar Series. Jason Tumlinson (STScI) will kick-off the seminar series with an overview of the HWO on September 5, 2023 at 1 – 2pm.
Zoom link for seminars: https://us02web.zoom.us/j/88448149570?pwd=TmR5dGVIcTY1SVNDdEEwcDNOWFlrdz09
Galaxies SIG Website: https://cor.gsfc.nasa.gov/sigs/Galaxies-SIG.php
Seminar Schedule: https://tinyurl.com/NASAGalaxiesSIG – every first Tuesday of the month 1 – 2pm ET
Please join the email list: https://cor.gsfc.nasa.gov/sigs/galsig/maillist/Galaxies-SIG_maillist.php
NASA's First Asteroid Sample
Has Landed,
Now Secure in Clean Room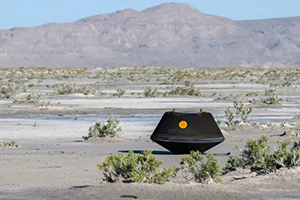 Congratulations OSIRIS-REx! After years of anticipation and hard work by NASA's OSIRIS-REx team, a capsule of rocks and dust collected from asteroid Bennu finally is on Earth. It landed at 8:52 a.m. MDT (10:52 a.m. EDT) on Sunday. Read more.
---
COR News and Events
See our new Events Calendar
Current and Upcoming Events
Program News and Announcements
Project News
---
Links