Cosmic Origins News
15 September 2023
ROSES-2023 APRA & SAT Due Dates Deferred
ROSES-2023 Amendment 44 announces that the due dates for both D.3 APRA and D.7 SAT have been deferred: Mandatory Notices of Intent are now due December 15, 2023, and proposals are now due January 31, 2024. The amendment can be found at the following link:
D.3 ASTROPHYSICS RESEARCH AND ANALYSIS PROGRAM
An excerpt from the amendments that highlights the new inclusion of CubeSat investigations is below and can be found at the link above for the APRA Amendment 44:
This program element now features Suborbital Investigations as a separate category from CubeSat Investigations; this is expected to improve clarity for proposers reading the solicitation and does not introduce significant changes to requirements for either category of proposal. Suborbital projects must include a Payload Requirements Document both with the mandatory NOI as well as with the proposal, see Section 1.2.1.2. Because of the anticipated greater degree of complexity, the Scientific/Technical/Management section of proposals for CubeSat investigations may be 20 pages long, instead of the default 15 pages, see Section 1.2.2.
Overviews for both APRA and SAT solicitations can be found by following the respective links below.
D.3 Astrophysics Research and Analysis (APRA) solicits basic research proposals for investigations that are relevant to NASA's programs in astronomy and astrophysics and includes research over the entire range of photons, gravitational waves, and particle astrophysics.
D.7 Strategic Astrophysics Technology (SAT) supports the maturation of key technologies for potential infusion in spaceflight missions. The SAT program is designed to support the maturation of technologies that have already been demonstrated to be feasible (i.e., TRL 3), to the point where they can be incorporated into NASA flight missions (TRL 6).
Further changes to the text of APRA and SAT will be provided by amendment in October.
NASA's First Asteroid Sample
Has Landed,
Now Secure in Clean Room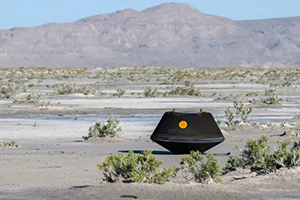 Congratulations OSIRIS-REx! After years of anticipation and hard work by NASA's OSIRIS-REx team, a capsule of rocks and dust collected from asteroid Bennu finally is on Earth. It landed at 8:52 a.m. MDT (10:52 a.m. EDT) on Sunday. Read more.
---
COR News and Events
See our new Events Calendar
Current and Upcoming Events
Program News and Announcements
Project News
---
Links